SEASON RECAP
Ak si chcete prečítať tento text v slovenskom jazyku, kliknite SEM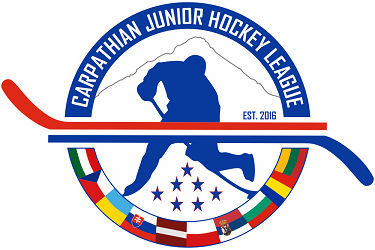 Season 2022/2023 is over, so now is the time for short recapitulation. As the first, we will turn over on youngest category of Carpathian Junior Hockey League. In its seventh season, 6 teams participated in U12 category. Teams from Ukraine, Poland and Romania met four times during the season. Two teams joined them during the season as a guest teams. Both of them, MŠKM Trebišov and Polonia Bytom, organised one round at their home arenas.
Champions of CJHL U12 2022/2023 became young Ukraininas from HC Dnepr-2011. Lost only 7 points during the season and kept first place from its start to the end. Silver medalist from Sanok was the only one CJHL team which find way how to beat Dnepr. After three tigh losses in first two rounds (3:4, 3:4, 0:1), young polish players won against the leader during the third round in Trebišov (4:2). Bronze medals belongs to polish select team, Festiwal Hokeja. HC Dnepr-2011 became also the winner of Presidential Cup as the best team of the fourth round.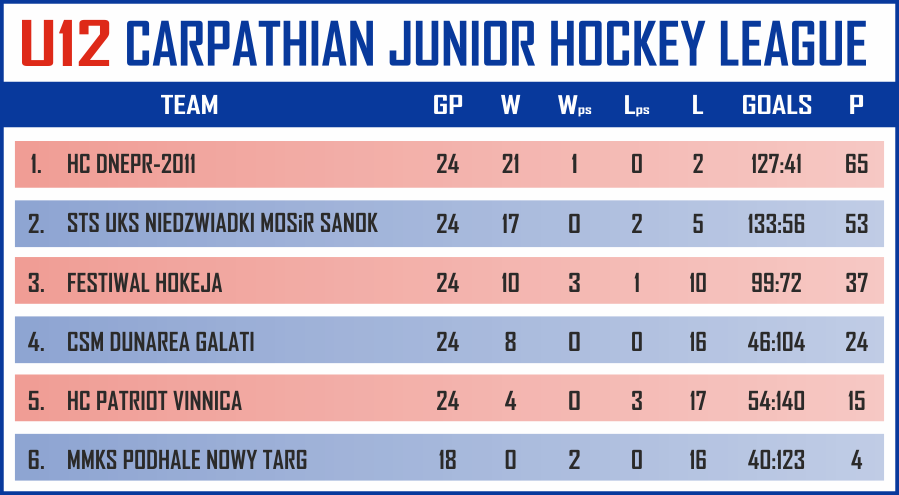 During the season, 75 games were played, in which 558 goals were scored (including games with guest teams). Niedzwiadki Sanok scored 133 times and had the best offence of the U12 League. HC Dnepr had the best defence with only 41 goals against.
The best scorer of the 2022/2023 season became, with 52 goals, Oleksii KOROTKYI from HC Dnepr-2011. Only in three games (from 24) he didn´t find way how to get puck in the net. He scored almost half of his team goals (Dnepr scored 127 times). Also best players of the season were decorated. Each coach nominated one of his players to ALL STAR TEAM of the season.
Teams and best individuals were decorated by Mr. Adam Fras, vice president of Poland Ice-hockey Federation, deputy mayor of the city of Bytom, and Mr. Krysztof Czech, vice president of Carpathian Junior Hockey League.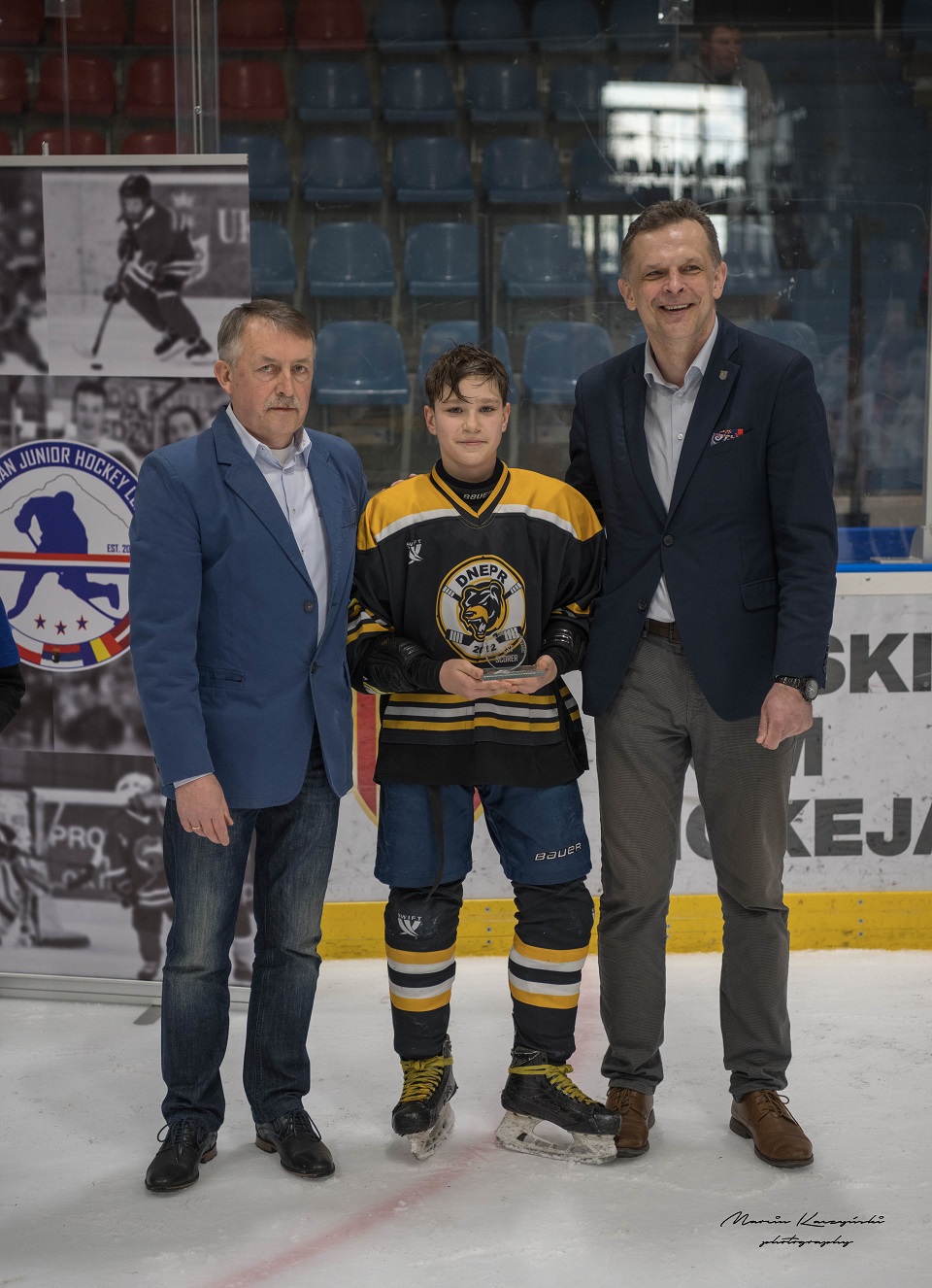 2022/23 CJHL U12 ALL STAR TEAM
Damir KACHUR (HC Dnepr-2011)
Oskar BATOR (STS UKS Niedzwiadki MOSiR Sanok)
Marcel KOMOROWSKI (Festiwal Hokeja)
Fabian CUZMIN (CSM Dunarea Galati)
Oleksandr SAVCHUK (HC Patriot Vinnica)
Wiktor ISKRZYCKI (MMKS Podhale Nowy Targ)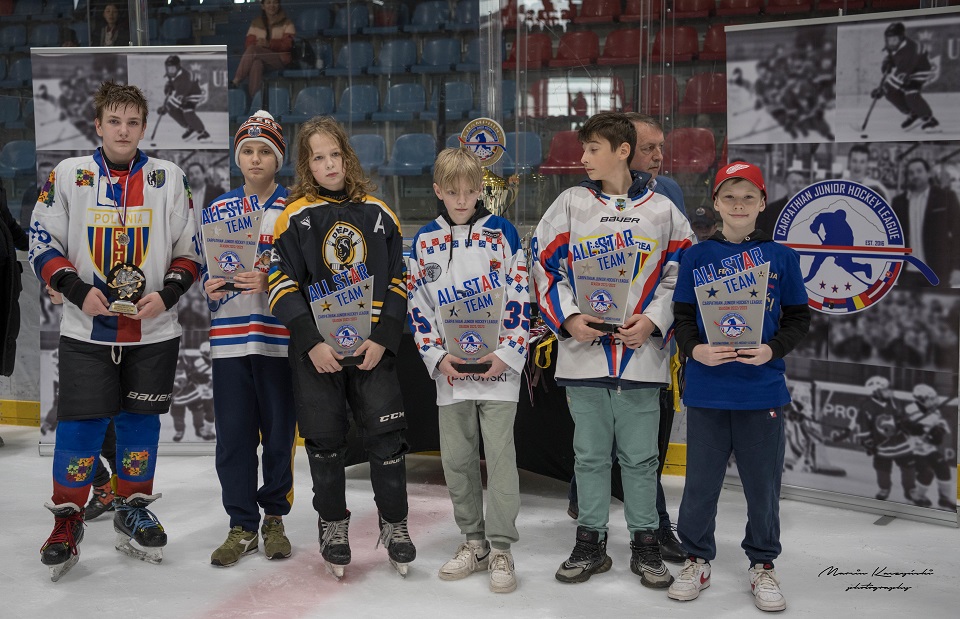 2022/2023 GAMES RESULTS
1. ROUND (Sanok, 2022 September 2-4.)
STS UKS Niedzwiadki MOSiR Sanok - HC Dnepr-2011 3:4
CSM Dunarea Galati - HC Patriot Vinnica 3:1
MMKS Podhale Nowy Targ - Festiwal Hokeja 1:15
HC Patriot Vinnica - STS UKS Niedzwiadki MOSiR Sanok 2:10
HC Dnepr-2011 - MMKS Podhale Nowy Targ 8:3
Festiwal Hokeja - CSM Dunarea Galati 9:2
CSM Dunarea Galati - MMKS Podhale Nowy Targ 4:3
Festiwal Hokeja - STS UKS Niedzwiadki MOSiR Sanok 2:1 ps
HC Patriot Vinnica - HC Dnepr-2011 1:8
STS UKS Niedzwiadki MOSiR Sanok - CSM Dunarea Galati 7:0
MMKS Podhale Nowy Targ - HC Patriot Vinnica 3:7
HC Dnepr-2011 - Festiwal Hokeja 4:2
Festiwal Hokeja- HC Patriot Vinnica 9:1
CSM Dunarea Galati - HC Dnepr-2011 0:4
STS UKS Niedzwiadki MOSiR Sanok - MMKS Podhale Nowy Targ 14:3
MMKS Podhale Nowy Targ - HC Patriot Vinnica 7:6 ps
STS UKS Niedzwiadki MOSiR Sanok - CSM Dunarea Galati 8:0
HC Dnepr-2011 - Festiwal Hokeja 6:2
2. ROUND (Nowy Targ, 2022 December 16-18.)
MMKS Podhale Nowy Targ - HC Dnepr-2011 2:7
Festiwal Hokeja- HC Patriot Vinnica 6:1
STS UKS Niedzwiadki MOSiR Sanok - CSM Dunarea Galati 8:0
HC Dnepr-2011 - Festiwal Hokeja 5:1
CSM Dunarea Galati - MMKS Podhale Nowy Targ 6:2
HC Patriot Vinnica - STS UKS Niedzwiadki MOSiR Sanok 0:9
HC Patriot Vinnica - CSM Dunarea Galati 1:2
STS UKS Niedzwiadki MOSiR Sanok - HC Dnepr-2011 3:4
MMKS Podhale Nowy Targ - Festiwal Hokeja 2:5
HC Dnepr-2011 - HC Patriot Vinnica 14:1
CSM Dunarea Galati - MMKS Podhale Nowy Targ 2:0
Festiwal Hokeja - STS UKS Niedzwiadki MOSiR Sanok 3:5
CSM Dunarea Galati - Festiwal Hokeja 4:3
STS UKS Niedzwiadki MOSiR Sanok - HC Dnepr-2011 0:1
HC Patriot Vinnica - MMKS Podhale Nowy Targ 4:2
HC Dnepr-2011 - CSM Dunarea Galati 2:1
Festiwal Hokeja - HC Patriot Vinnica 5:3
MMKS Podhale Nowy Targ - STS UKS Niedzwiadki MOSiR Sanok 0:10
3. ROUND (Trebišov, 2023 February 10-12.)
MŠKM Trebišov (guest team) - Festiwal Hokeja 3:0
HC Dnepr-2011 - CSM Dunarea Galati 6:1
STS UKS Niedzwiadki MOSiR Sanok - HC Patriot Vinnica 6:1
Festiwal Hokeja - MMKS Podhale Nowy Targ 5:2
CSM Dunarea Galati - MŠKM Trebišov (guest team) 1:6
HC Patriot Vinnica - HC Dnepr-2011 1:9
MMKS Podhale Nowy Targ - STS UKS Niedzwiadki MOSiR Sanok 3:8
MŠKM Trebišov (guest team) - MMKS Podhale Nowy Targ 4:0
STS UKS Niedzwiadki MOSiR Sanok - HC Dnepr-2011 4:2
CSM Dunarea Galati - Festiwal Hokeja 3:5
MMKS Podhale Nowy Targ - HC Patriot Vinnica 5:4 ps
HC Dnepr-2011 - MŠKM Trebišov (guest team) 3:0
Festiwal Hokeja - STS UKS Niedzwiadki MOSiR Sanok 1:4
HC Patriot Vinnica - CSM Dunarea Galati 3:2
CSM Dunarea Galati - MMKS Podhale Nowy Targ 5:1
HC Dnepr-2011 - Festiwal Hokeja 1:0
HC Patriot Vinnica - MŠKM Trebišov (guest team) 3:8
STS UKS Niedzwiadki MOSiR Sanok - CSM Dunarea Galati 5:2
MMKS Podhale Nowy Targ - HC Dnepr-2011 1:9
Festiwal Hokeja- HC Patriot Vinnica 3:1
MŠKM Trebišov (guest team) - STS UKS Niedzwiadki MOSiR Sanok 4:5
4.ROUND (Bytom, 2023 April 14-16.)
Polonia Bytom - CSM Dunarea Galati 8:1
HC Patriot Vinnica - Festiwal Hokeja 2:3 ps
HC Dnepr-2011 - STS UKS Niedzwiadki MOSiR Sanok 4:1
Festiwal Hokeja - Polonia Bytom 2:6
CSM Dunarea Galati - HC Dnepr-2011 1:3
STS UKS Niedzwiadki MOSiR Sanok - HC Patriot Vinnica 6:4
HC Dnepr-2011 - HC Patriot Vinnica 11:1
CSM Dunarea Galati - Festiwal Hokeja 0:7
Polonia Bytom - STS UKS Niedzwiadki MOSiR Sanok 9:1
Festiwal Hokeja - HC Dnepr-2011 6:7 ps
HC Patriot Vinnica - Polonia Bytom 1:5
STS UKS Niedzwiadki MOSiR Sanok - CSM Dunarea Galati 7:2
Festiwal Hokeja - STS UKS Niedzwiadki MOSiR Sanok 2:6
HC Patriot Vinnica - CSM Dunarea Galati 1:4
Polonia Bytom - HC Dnepr-2011 6:1
CSM Dunarea Galati - HC Patriot Vinnica 0:4
STS UKS Niedzwiadki MOSiR Sanok - Festiwal Hokeja 2:3 ps
HC Dnepr-2011 - Polonia Bytom 4:0